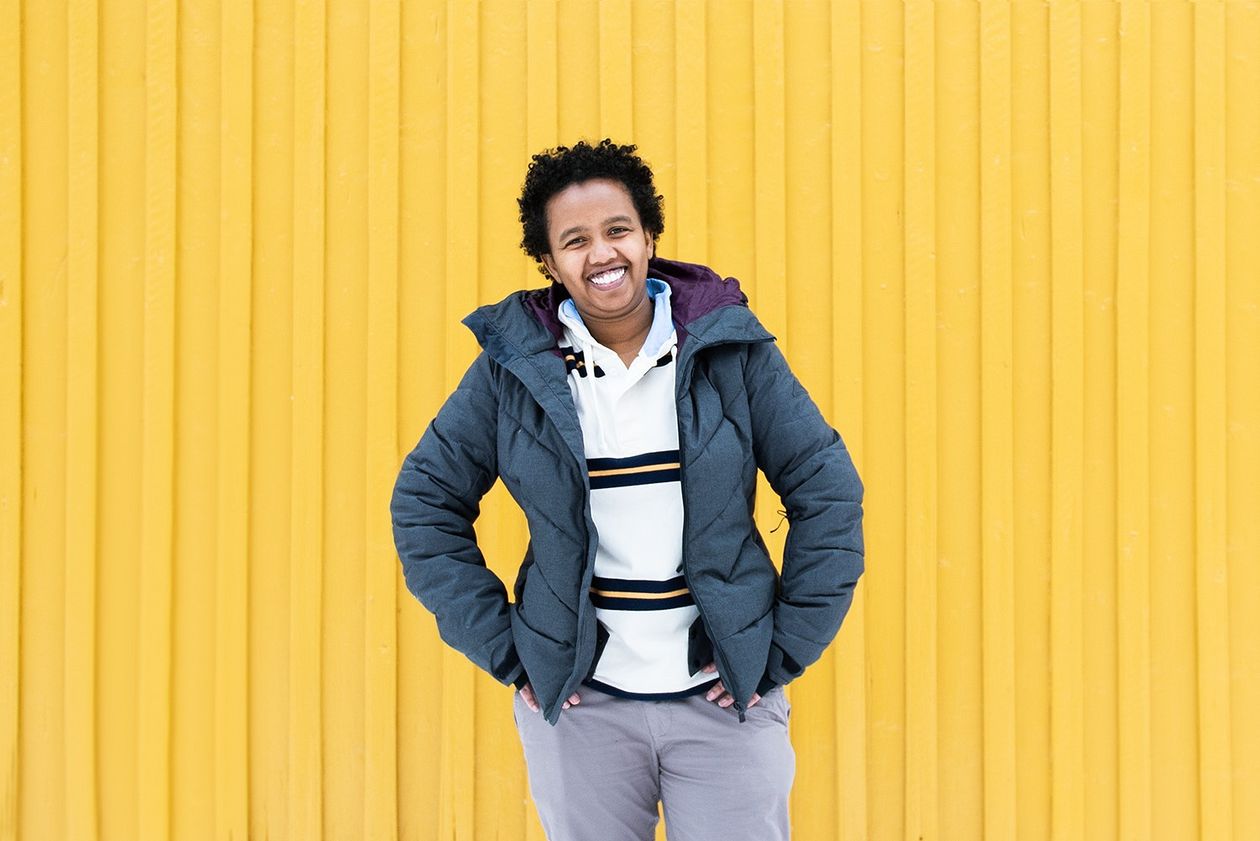 Originally from Kenya, Faisa Egge settled in Kokkola, a coastal city in Western Finland, and became an entrepreneur offering home care services. She endeavours to bring heightened humanity to the care of the elderly and to increase empathy within society. The Federation of Finnish Enterprises (Suomen Yrittäjät) and Elo awarded this exemplary and determined woman as the Immigrant Entrepreneur of the Year.
Nearly every person that passes in the Old Town section of Kokkola greets Faisa Egge. Egge chats briefly with each one, exchanging the latest news and accepting their congratulations. She has just been chosen as the Immigrant Entrepreneur of the Year. Egge is known by the residents of Kokkola through her business, local politics or voluntary work.
'Everyone knows each other here, but I am mostly familiar with other immigrants. During my free time, I have helped them to deal with the local bureaucracy and to complete forms, and I have done my best to assist them in the process of integration. I'm not paid for that work, but I just want to help and make positive things happen', explains Egge.
The endeavour to affect positive change and the courage to take action guide Egge in each area of her life. If Egge is made aware of some grievance or injustice, she doesn't hesitate to act. Through politics, she has endeavoured to make a difference, for example, in the lives of home caregivers and school-aged children.
'I got involved in politics, since I noticed it was the best way to make a true difference. I think that if you are not satisfied with something, it is better to take action rather than just making complaints', she states.
An exemplary attitude was decisive
Egge's positive attitude and inspiring example also made an impression on the jury for the Immigrant Entrepreneur of the Year 2019 competition held by the Federation of Finnish Enterprises. Her story, her motivation for entrepreneurship despite language and cultural barriers and the profitability of her business contributed to Egge's selection as the winner of this newly established competition. Egge and her company, Amanihoiva Kotihoito Oy, met the criteria perfectly.
Both her win and nomination to the competition came as a surprise to Egge.
'I was in Kenya visiting family when I heard that I was in the finals! It is an honour to have been chosen as the first winner for this competition. I celebrate the win also on behalf of other immigrants.'
The purpose of the Immigrant Entrepreneur of the Year competition is to emphasise the importance of immigrant entrepreneurs to our society and to increase appreciation for their contributions. These themes are particularly close to Egge's heart.
'The competition is great, because it encourages foreigners to become entrepreneurs and helps them to integrate. I know from experience how much determination it takes for an immigrant to integrate into society and take on the challenges of entrepreneurship. I hope that this will convince other immigrants to consider entrepreneurial activities and that they will also achieve success.'
Elo awarded a prize of EUR 3,000 to the competition winner.
'I want to affect positive change and I intend to use the prize money to this end.'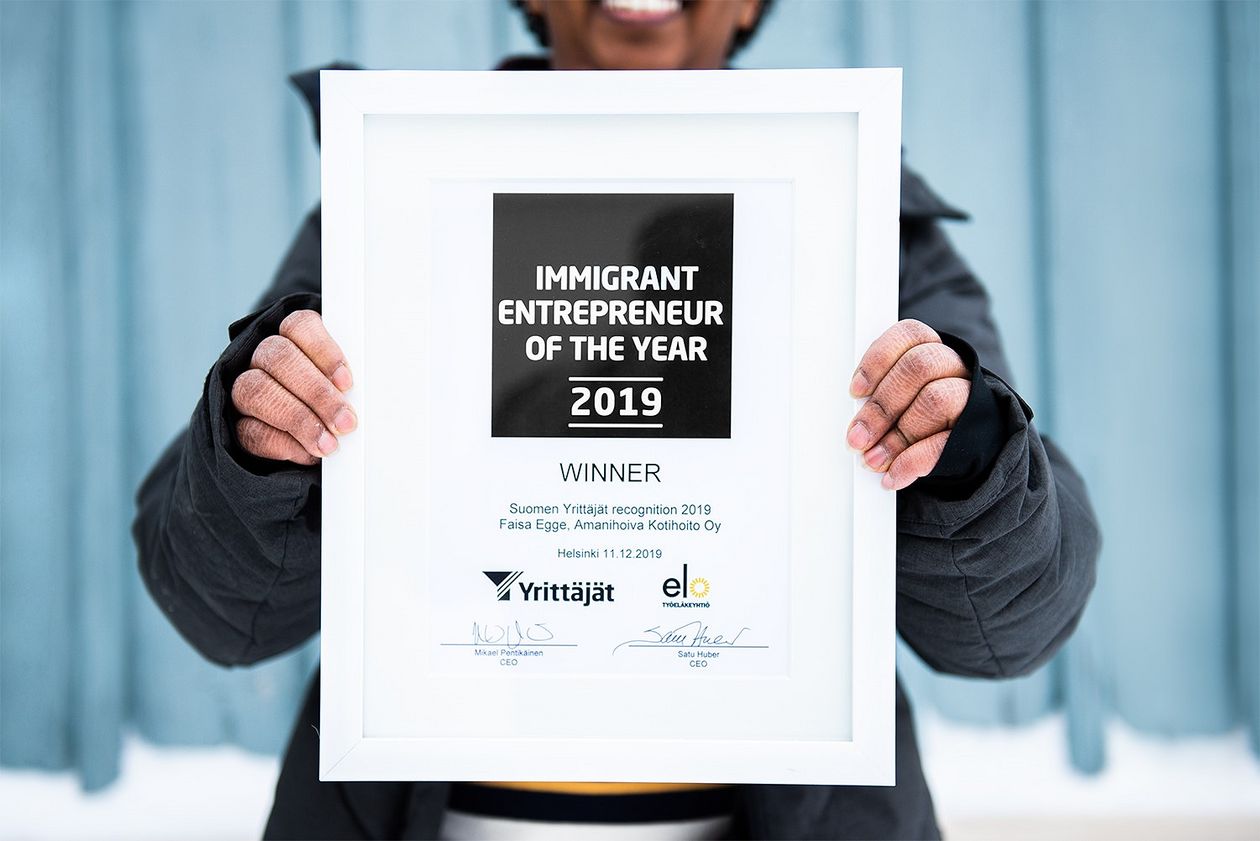 Persistence despite difficulties
Egge became an immigrant entrepreneur in Kokkola largely through coincidence and as a result of circumstances.
'My single mother did not have the means to pay for my university studies in Kenya. I heard that it is possible to study in Finland on a scholarship and so I decided to apply to Kokkola. My mother told me that I had to pass the entrance exams on the first try, because we couldn't afford a second try. I ended up getting in.'
In 2008, Egge moved to Kokkola to study in the field of health care. In order to support herself, she was forced to work alongside her studies.
'I walked through the entire city and asked about jobs everywhere. In the end, I succeeded to find work in a pizzeria. My salary was unlawfully minimal, so my friends told me to quit immediately. I figured, however, that it was better than nothing and so I continued there for another six months. Later on I realised how naive I had been!'
Once her studies were complete, Egge was temporarily hired by the local health centre and central hospital, but the fixed-term employment contracts and insecurity about the continuity of the work were frustrating.
'I decided to start my own health care business. There was a lot of bureaucracy involved in starting my own company. Fortunately, I received help from entrepreneurial advisers as well as a start-up grant provided by the local TE Office. In addition to all the issues related to starting your own business, I also had to learn everything from a new language to the local culture and practices.'
At the beginning, Egge faced a lot of racism and prejudices that hindered her ability to get started. Successful customer experiences, however, gained her a good reputation and Egge began to win over the residents of Kokkola.
'People have a lot of preconceptions about immigrants, but once they become acquainted with us, those preconceptions tend to dissipate. When my customers learned to know me better, my differences became a resource.'
Despite the challenges she has faced along the way, Egge is especially grateful to Finland and the opportunities it offers.
'I had nothing when I arrived in Finland. No family, no possessions, I didn't speak the language and I knew no one. But Finland is the land of opportunities. I got a great education here that helped me to get a start. I am also very proud of the residents of Kokkola for accepting me, even though there have not been many immigrants here earlier.'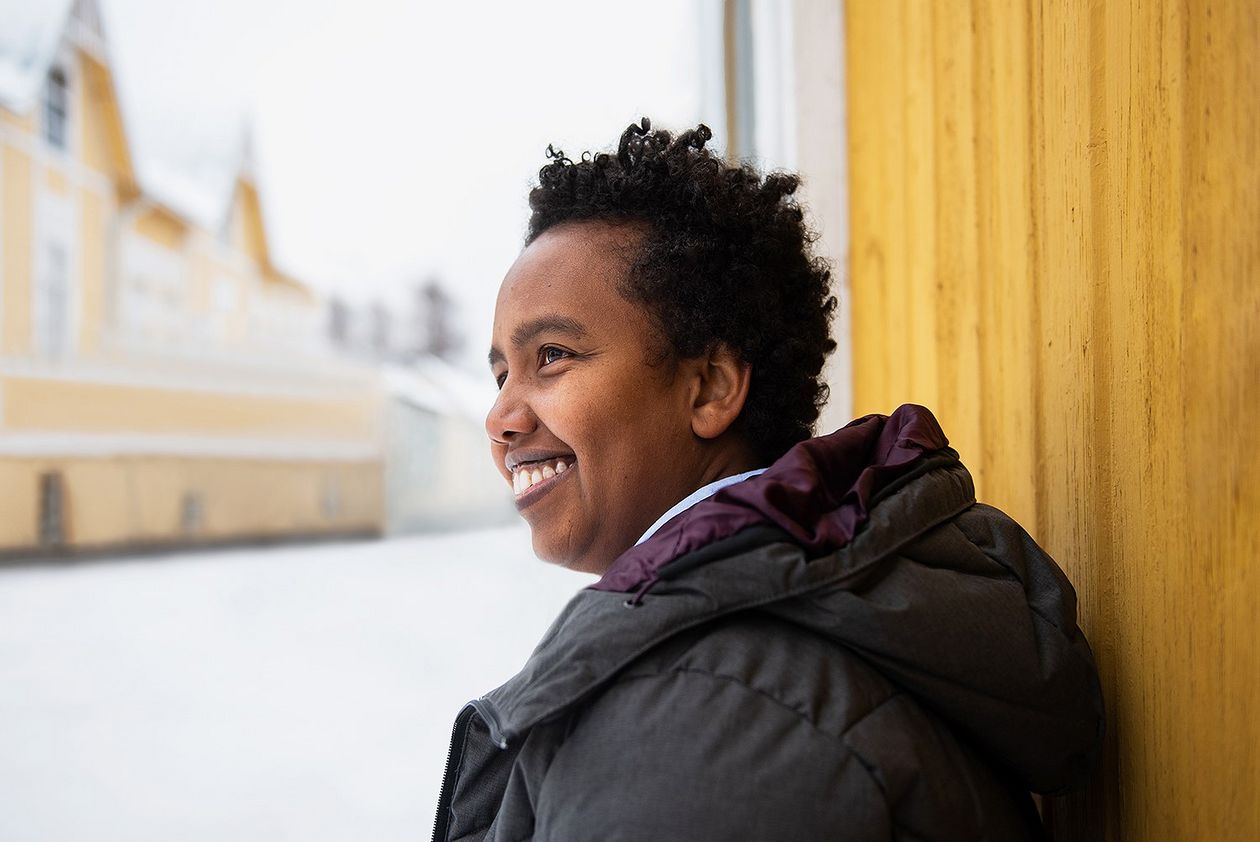 Business driven by values
What began as a private entrepreneurship eventually evolved five years ago to become a limited liability company. Egge now employs nearly ten people. The business activities of Amanihoiva Kotihoito Oy are profitable and growing, but financial success and growth are not the primary goals for the company's founder. More important than these are the values that Egge wants to incorporate in everything she does. For her, nursing care means a lot more than just the provision of health care and administration of medicines.
'In my job, I see a great many lonely elderly who have minimal pensions. The elderly are often left alone and no one spends any quality time with them. Company and empathy are really vital and cannot be replaced. I want to give energy to my customers. Of course, I also have days when I can't maintain an upbeat attitude all day.'
Egge says that the best part about being an entrepreneur is being able to independently decide how things are done. Legislation certainly establishes a framework for health care services, but Egge doesn't want the rules to limit the work too much. She strives to spend more time with her customers than is necessary, even if it isn't always the most financially profitable approach. In addition to providing necessary services, she also wants to bring joy and humanity to their lives.
'I come from a culture in which the elderly remain living with their families. The family elders have a lot of power in Kenya. In my family, my grandmother decided everything and I always helped her. Here, the system is different; people work a lot and spend their time caring for their children, but they don't leave time to spend with grandparents. In Finland, it is seen as ideal if older people are able to live in their own homes as long as possible, but it is also essential that they are attended to and provided with company!'
Egge is tired of bureaucracy and budget cuts in services for the elderly and she has a message for everyone in Finland.
'I hope that everyone will consider what type of old age they want for themselves.'
Egge knows that her work is valuable.
'I impact the lives of many people and I know that I am important to them. I am like a friend or family member to my customers and they often express their gratitude to me. I have received positive feedback, even in the form of a letter written to our local newspaper!'
Egge is proud of her accomplishments, but she still dreams about the same things she did when she arrived in Finland.
'I want to be part of something larger within a community of people who care about the same things I do. I want to participate actively in society and teach people about immigrants, empathy and mutual understanding. We all need each other. We have to learn how to live together.'