Elo on mukana Hankenin Business Lead 2016 -ohjelmassa, jossa englantia puhuville koulutetuille turvapaikanhakijoille järjestetään koulutusta ja orientaatiojakso suomalaisiin yrityksiin. Ohjelmaan osallistuu noin 40 turvapaikanhakijaa. Kahden kuukauden pituisen tutustumisjakson Elossa aloitti elokuussa jemeniläinen 29-vuotias Mohammed Saaed Salif Al-Odaini.
Mohammed Saaed on opiskellut Jemenissä viestintäteknologiaa ja valmistui vuonna 2012 kandidaatiksi. Orientaatiojakson aikana Mohammedin kanssa yhteistyötä tehneet elolaiset kokivat hänen tuoneen työpäiviin iloa ja positiivista energiaa. Harjoittelunsa päätteeksi Mohammed kirjoitti kokemuksistaan blogin:
Hello,
I want to tell a little bit about myself. I'm Mohammed Saeed , I have five brothers and one sister and I'm the youngest one in my family. My country is the republic of Yemen . The city that I was born and spent all my previous life is called Taiz. I speak native Arabic (my mother tongue and the official language in my country ) and I also speak English (the study language at the university) and as soon as possible I'll start to study Finnish language.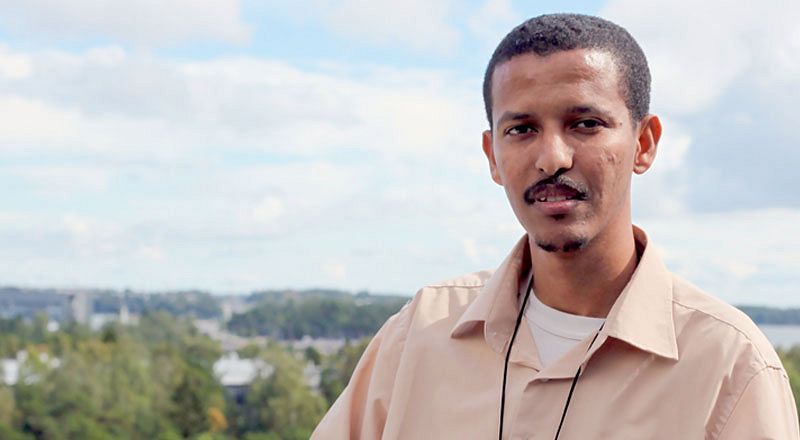 I studied in the university of Taiz faculty of engineering and information technology and I got bachelor's degree from telecommunication department, and I graduated from it in 2012, one year after the Arabic Spring when you could say, everything was going to be destroyed. I also studied CCNA in CISCO networking academy in my city Taiz , but because of the bad the situation in my country I didn't get chance to work in my field – however I don't like sitting down and doing nothing, so I volunteered to teach chemistry subject for the 11th grade in my high school. I also taught English language in a private institute for six months.
After the military coup happened in my lovely country Yemen destroying the country, when the life of anyone resent from them became a risk, it was necessary to leave my country. In October 2015 I left my country, my family, my friends. I left everything I loved and I cared about.
I faced a lot of difficulties during my trip from Yemen to Turkey, then from Turkey to Europe. The most difficult and most dangerous part of my trip was from Turkey to Greece, passing through the sea. I named this trip Passing through the death, but thanks to God I arrived safely to Greece. After that started the easiest and safest part of my trip and I was mainly walking or using trains or buses. This trip was from Greece through Macedonia, Serbia, Croatia, Slovenia, Austria, Germany, Denmark, and Sweden until finally I arrived to Finland in 11th of Dec. 2015.
Hanken Business Lead program
Then I transferred to Helsinki in a reception center. I was the only Yemeni there but I didn't feel lonely because I made a lot of friends from Arab and non-Arab countries. One day I saw an advertisement of Hanken Business Lead program so I directly applied for it, but the studying in this program wasn't easy! There were more than 70 educated persons applying for the program, but Hanken wanted only 40. As you can imagine the competition was huge but finally I got my seat in program!
Hanken-program started In May 2016 and it was divided in four live modules:
1.​ European Business Landscape and Working Life
2. Business Strategy and Entrepreneurship
3. Self-leadership
4. Leadership styles and marketing consumer behavior
After these modules there was two months internship in one of Hanken's participating companies, and mine was this wonderful company Elo.
Time in Elo
I started my internship here in August and unfortunately it'll end today. On my first days here, I met Elo's executives and department's supervisors and specialists. They told me a lot of their job and the job done in their departments. I also had a meeting with Elo's CEO (Satu Huber) and I spent a great hour with her. She told me about her life and her leadership style. So I can only say, I got a huge experience from all!
My biggest project in Elo was in IT-department where I tested a new contract archive system including verifying configuration and migration. I also got a task from communications department to do an evaluation of Elo's English websites. I also got a new assignment from HR department, which was challenging because it was in Finnish – and I don't understand the language almost at all. Despite this I finished the whole task! In addition to this I went to few student fairs with Elo's HR specialists to tell students about Elo. That was a whole new experience for me!
I want to especially thank HR employees of Elo. Lastly I wanted to write a poem for you but I'm sure if I used the trees as pens and the sea's water as ink and the skies as paper, it'll not be enough to express my gratitude for you.
So I'll say Shukran in Arabic, Thank you in English and Kiitos in Finnish!
Mohammed Saeed